NATHALIE PECHALAT / FABIAN BOURZAT
French Ice dancers, 3 times french national champions, two times European champions and World bronze medalists, they offer an artistic and rich vision of figure skating, they draw on the ice pictures rich in emotions and sensivity.

They represent the spirit of the poetrie, always in movement, real actors rewards by the skating comunity which appreciates their innovative way of skating, fantasy without limits.

Real artists on ice, they will surprise you thanks to their breathtaking choregraphies, bringing Art and Entertainment to the highests levels.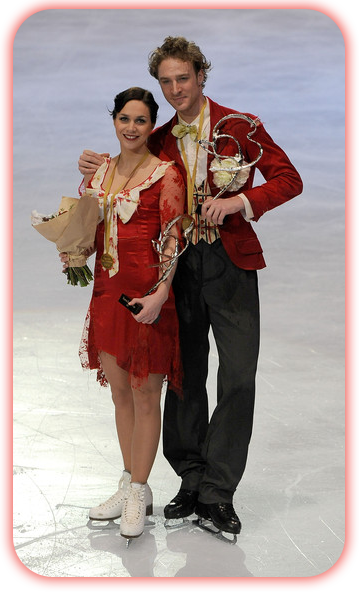 NATHALIE
Birth date: December 22, 1983
Studies: EM Lyon Business School - 3rd year
Favourite book: When I was a Work of Art, by Eric Emmanuel Schmitt
Favourite film: Girl on the bridge, by Patrice Leconte
Hobbies: Scuba-diving, reading, French cinema, cultural outings.


FABIAN
Birth date: December 19, 1980
Studies: Lyons Superior Institute of Osteopathy - 3rd year
Favourite book: Roots of Evil, by Dantec
Favourite film: Fight Club, by David Fincher
Hobbies: Kitesurfing, snowboarding, computer sciences.


RESULTS:
European Champions 2012
French National Champions 2012
3rd at Grand Prix Final
2nd at Skate America
2nd at Trophée Bompard
4th at World Championships 2011
European Champions 2011
2nd at Grand Prix Final
1st at Trophée Bompard
1st at Cup of China
French National Champions 2011
4th at Worlds 2010
4th at Europeans 2010
3rd at Grand Prix Final
2nd at Skate Canada
2nd at Trophée Bompard
7th at Olympics Vancouver 2010
French National Champions 2010

Website: www.péchalat-bourzat.com

Staff : Angelica KRYLOVA, Pasquale CAMERLENGO